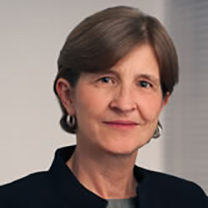 Mayree Clark
Managing Partner
Sector Focus: Financials
Eachwin Capital has been led by Mayree Clark since its inception.
Prior to forming Eachwin, Mayree was a Partner and member of the Executive Committee of AEA Holdings, which represented the joint interests of AEA Investors (one of the oldest private equity firms in the U.S.) and Aetos Capital (a boutique investment management firm focused on real estate and hedge funds.)
Previously Mayree was affiliated with Morgan Stanley for 24 years. She served in mergers and acquisitions, corporate finance, debt capital markets and real estate during the early years of her career there, and spent two years as deputy to the Chairman, President and CEO. She became Global Research Director in 1994 and led that effort to preeminence until 2001, when she was asked to manage the firm's global private wealth management activities. She served as non-executive chairman of MSCI from 2000 to 2005.
In 2009 Ms. Clark joined the reconstituted Board of Ally Financial Services (formerly known as GMAC), following its restructuring by the U.S. Treasury. She chaired Ally's Risk Committee from 2009 til March 2018 and is currently a member of its Audit and Risk Committees.
She is a Director of Taubman Centers where she serves as Chair of the Compensation Committee and a member of the Nominating and Corporate Governance Committee.  In the spring of 2018, she was asked to join the Supervisory Board of Deutsche Bank, during a period of corporate turmoil. The Supervisory Board is the governing body for German corporations. Mayree Chairs the Risk and Nomination Committees and is a member of the Strategy Committee.
Mayree previously served as a Director of the Stanford Management Company, which is responsible for the University's endowment (2007-2015) and as a director of Commonfund (1992-2004) and of Greenwich Associates (2006-2009).
Ms. Clark completed her undergraduate work at the University of Southern California in 1976 and received her M.B.A. from the Stanford University Graduate School of Business in 1981. She is active in a variety of community activities and philanthropic ventures. She is a member of the Council on Foreign Relations, Women Moving Millions, and the Circle Financial Group.